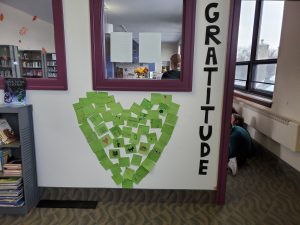 Faith Families were reestablished at Communion of Saints School in 2022. Each group has their own unique virtue, color, heritage, and patron saint. Students in grades Kindergarten through eighth grade are randomly sorted into one of four Faith Families at the beginning of the school year. Two eighth grade students are then elected as "Faith Family Leaders" for each group, providing them with a leadership role to strengthen communication, problem-solving, and planning skills.
Students meet monthly with their Faith Family to participate in team-building or religious activities. Previous Faith Family activities have included:
Faith Family "Cheers"

Stations of the Cross

Lenten Retreat Day

Mary Gardens
The bond students experience across grade levels within their Faith Family sets Communion of Saints School apart as a Christ-centered community focused on relationships with one another. Below are some facts about each Faith Family. We cannot wait to see where our new students are sorted!
Carthan: Faith Family of Charity
Color: Blue

Heritage: Irish

Patron Saint: Blessed Carlo Acutis
Omoiyari: Faith Family of Kindness
Color: Red

Heritage: Japanese

Patron Saint: St. Andrew Kim Taegon 
Serenidad: Faith Family of Peace
Color: Orange

Heritage: Spanish

Patron Saint: St. Oscar Romero
Shukuru: Faith Family of Gratitude
Color: Green

Heritage: Swahili

Patron Saint: St. Josephine Bakhita